NEWS
Read our latest news including judicial speeches, consultations and consultation responses.
Published speeches reflect the individual judicial office holder's personal views, unless otherwise stated.
Lady Angiolini becomes first female to be sworn in as Lord Clerk Register
Lady Elish Angiolini, L.T. was today sworn in as the new Lord Clerk Register of Scotland by the Lord President at a ceremony held in Parliament House.
Lady Angiolini, is the first female to be hold the role and was appointed by His Majesty the King, on the recommendation of the First Minister.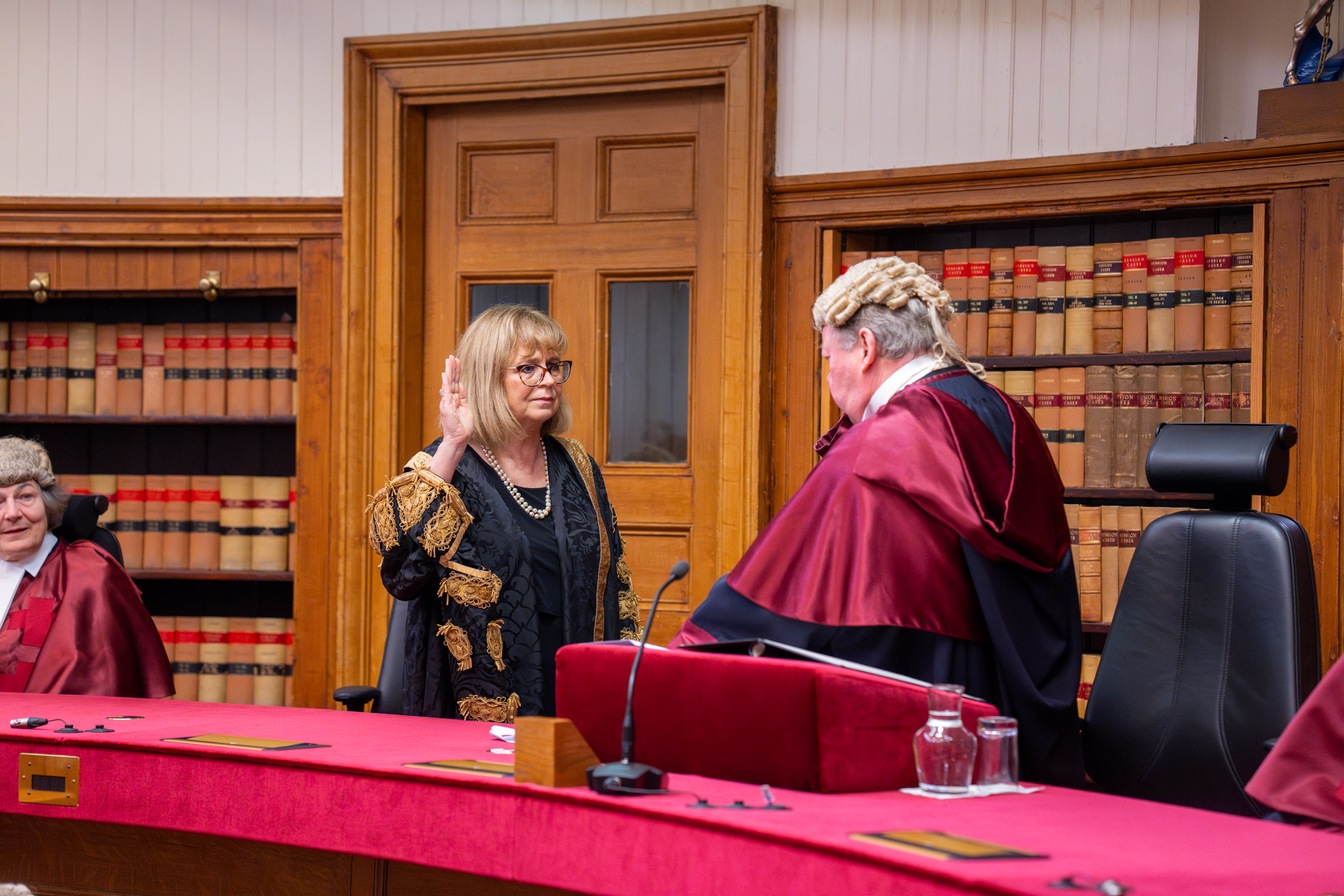 She succeeds the Lord Mackay of Clashfern, K.T., who retired from the office in November 2022, having held it since 2007.
The Lord President said: "The office of Lord Clerk Register is an honorific and voluntary role. It is the oldest of the great offices of state in Scotland. The responsibilities associated with the role have evolved a number of times since the office was first established in the late thirteenth century.

"At that time, the holder was responsible for the records of Chancery, Parliament and the Exchequer, and later the Court of Session.
"Today, responsibility for these records lies with the National Records of Scotland. The Lord Clerk Register retains the duties of Keeper of the Signet, who grants a commission to the Principal Clerk of Session for the use of the Signet as royal authority for the bringing of civil actions. The Lord Clerk Register is also, along with the Lord Justice Clerk, a Commissioner of the Regalia; responsible for the safekeeping of the Stone of Destiny and the Honours of Scotland.
"Lady Angiolini, you were educated at the University of Strathclyde, before training as a solicitor with the Crown Office and Procurator Fiscal Service. You prosecuted crime for almost a decade before undertaking a secondment to the Lord Advocate's Secretariat. You held a number of senior posts in Crown Office, including Head of Policy, which saw you prepare the Crown Office for devolution and the introduction of the Human Rights Act. You served as Solicitor General and then Lord Advocate for two different governments over a five year period.
"We have since lost you to academia, from 2012 as Principal of St Hugh's College, Oxford. You have also been Chancellor of the University of the West of Scotland and a Pro Vice Chancellor of the University of Oxford.
"You were appointed a Lady of the Order of the Thistle and as chair of the Sarah Everard Inquiry last year.
"You are now the first woman to be appointed Lord Clerk Register. I have no doubt that you will discharge the functions of that office with your customary skills and will afford it the dignity which it deserves."